My Top 5 Travel Tips for Sewers

What do you pack when you go away? Do you take your current sewing project or are you limited by space and convenience? Do you wish you could do more sewing whilst relaxing by the poolside?
I travel a lot for my work and always try to find time to keep stitching, especially on my long plane trips. That's why I love English Paper Piecing! Because you can take it with you anywhere and keep working on it.
Here are my Top 5 Travel tips to make your sewing travels a breeze.
TIP 1: BE ORGANISED
Have all your sewing needs in the one place neatly organised and you will have no excuse to lay by the poolside and do a little stitching.
I like to use the Project Travel Case. A perfect travel case for keeping all my notions and unfinished blocks in. I can fit everything I need in here, plus if you omit your rotary cutter and pack it in with your checked luggage its perfect for taking on board the plane with you.
These cases come in several nice designs including hummingbird, cherry and rose patterns.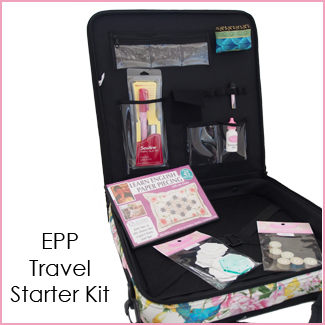 TIP 2: DON'T GET YOUR THREADS IN A TANGLE
When you are feeling all relaxed on your holiday the last thing you want to do is spend your time unravelling unruly threads. Keep them somewhere secure where they will be easy to grab them when you need them.
I like to use a Bobbin Saver. They can fit up to 35 superbobs nice and tight so your threads wont unravel. This goes straight inside my travel case and I know I will have a large range of thread colours if I need them.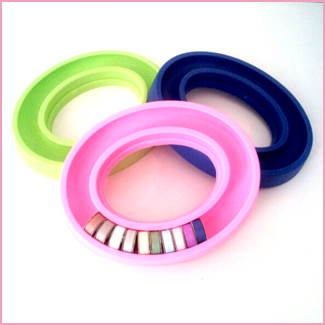 TIP 3: CUTTING ON THE GO
Even if I'm travelling I still like to do some rotary cutting and having the small Busyfingers 10″ Rotating Mat makes this task so easy. It's the perfect size for your lap plus it fits easily inside the Project Travel Case. If you can rotary cut whilst travelling you will always have something to sew!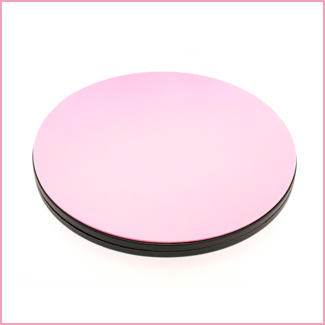 TIP 4: KEEPING THINGS CLEAN – ESPECIALLY YOUR GLASSES!
When you are on holidays and taking in the view its best to be able to actually see what you are looking at and the same goes when you are sewing!
I couldn't live without my Fast2Clean Microfibre Cleaning Cloth. This miracle product wipes any screen, glass, mirror and smooth surfaces to remove fingerprints and smudges. They come in three sizes, are printed with a Civil War quilt design and can simply be thrown in the washing machine. The thing I love about these little cloths is because they are static it attaches to the back of your phone, computer screen or whatever you need it for and you just peel it off, wipe down and reattach.
 TIP 5: REMEMBER TO ENJOY THE JOURNEY
Life isn't a destination its a journey.
If you only focus on the final destination you will miss out on all the great stuff in-between. Remember to enjoy and appreciate things in the present moment. It's like enjoying each and every stitch that makes up the final quilt.
Bon voyage!