The Sue Daley Glue Pen is here!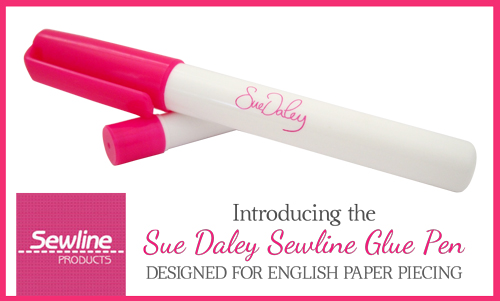 Hi everyone,
I am so thrilled to announce that I have partnered up with Sewline and have released my very own glue pen! Complete with a pink lid and pink glue.
As you may know, I have transformed the world of English Paper piecing by using the glue pen for preparing my paper shapes instead of spending valuable time basting with thread and after using the Sewline glue pen for many years, I am so excited to finally have my own "signature" glue pen.
I would only consider putting my name to the best of products and after working with Sewline, I knew their product was the one I wanted to work with.
Many thanks goes to Charlotte Shields, the Director of Sewline Products Australia for partnering with me and being a pleasure to work with on this new product.
I hope you will enjoy this new signature glue pen as much as I do and I look forward to seeing my pens stocked around Australia.
The Sue Daley glue pens and refills are NOW available from Patchwork with Busyfingers and all good patchwork and craft stores.
You can watch my video Tutorial below to see how and why I use the glue pen for English Paper Piecing.