Rose of Kaleigh Sew Along
Hello everyone.
Today I want to invite you to join me in making one of my English Paper Pieced quilt designs, Rose of Kaleigh. A Sew Along is starting on March 1 and I'd love for you to get involved!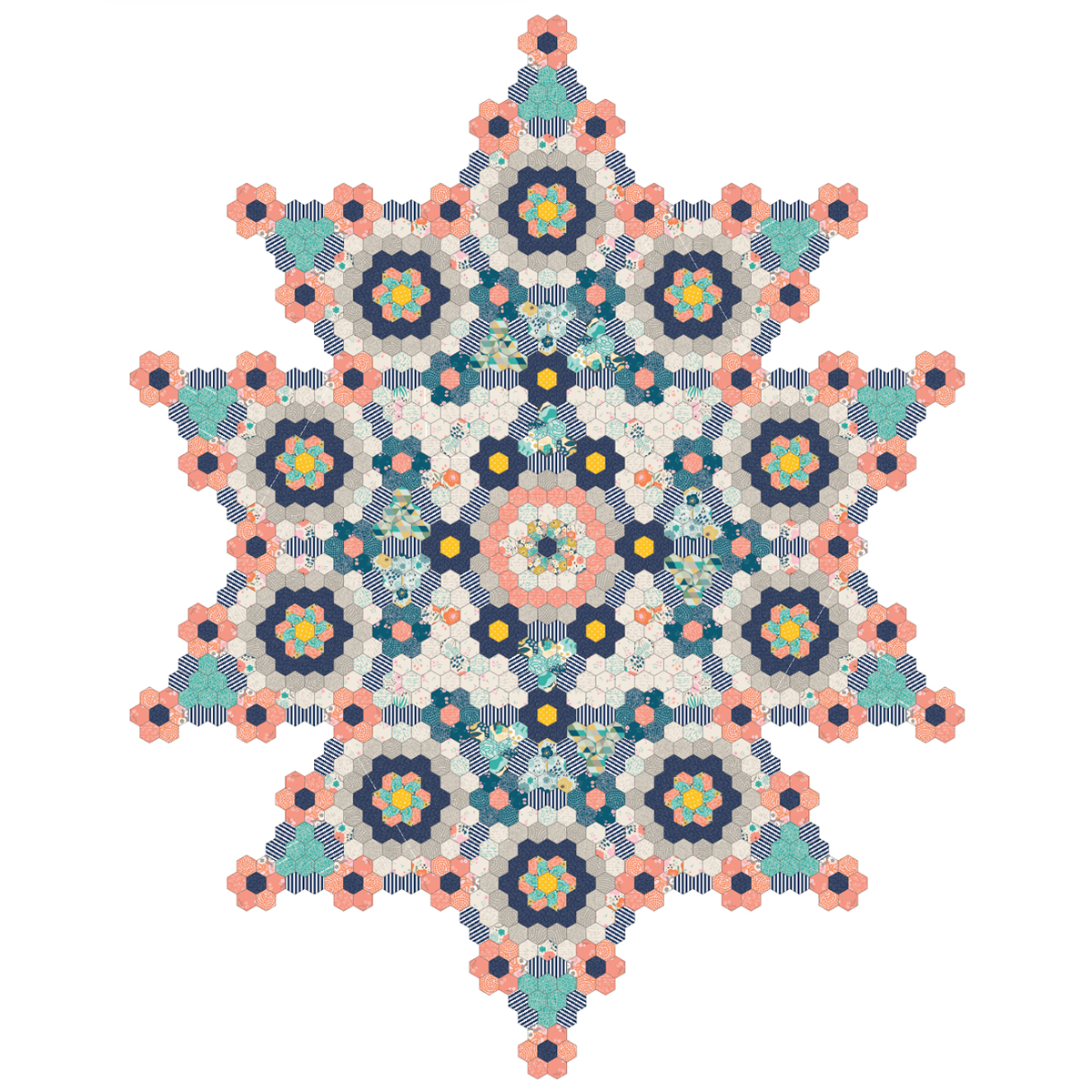 Rose of Kaleigh was a quilt that I made many years ago using 1″ Hexagons. It is a huge quilt – so recently I decided to remake this design using a smaller 3/4″ Hexagon and give it a new look with different fabrics. Below is my old quilt!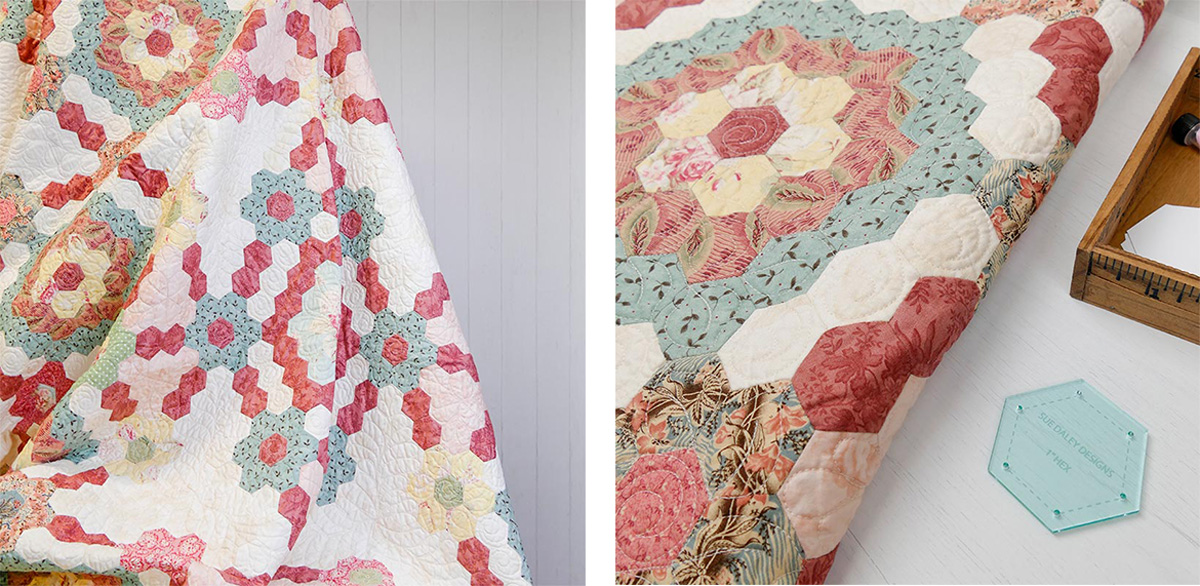 To make my new version of Rose of Kaleigh I am using Ava Rose by Deena Rutter for Riley Blake Designs. I love the colours in this range! So gorgeous. I am also incorporating some basics – Riley Blake Designs Mustard Swiss Dot, Small Navy Hashtag and 1/8″ navy stripe.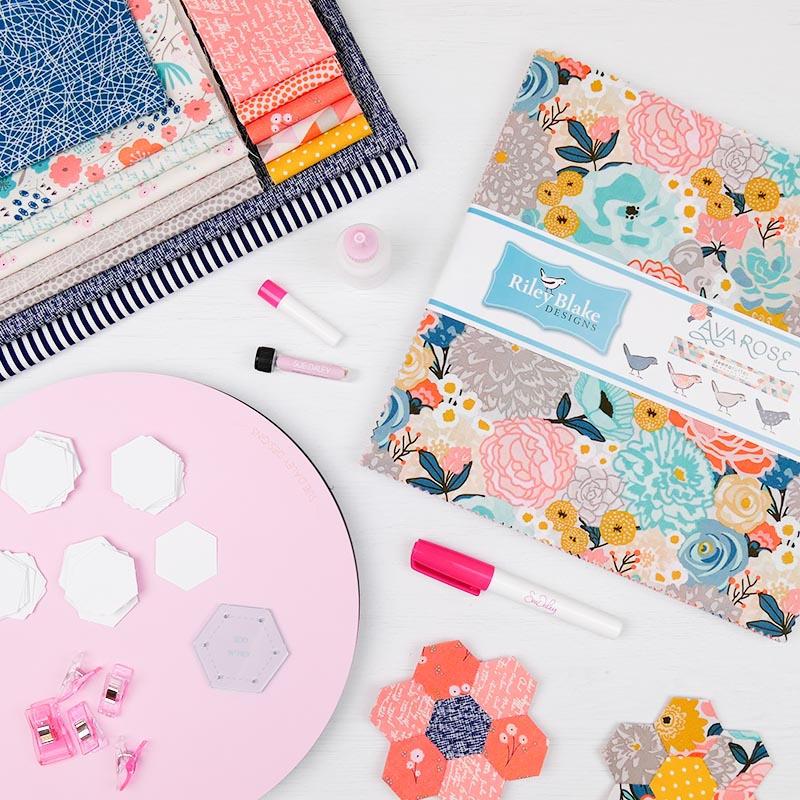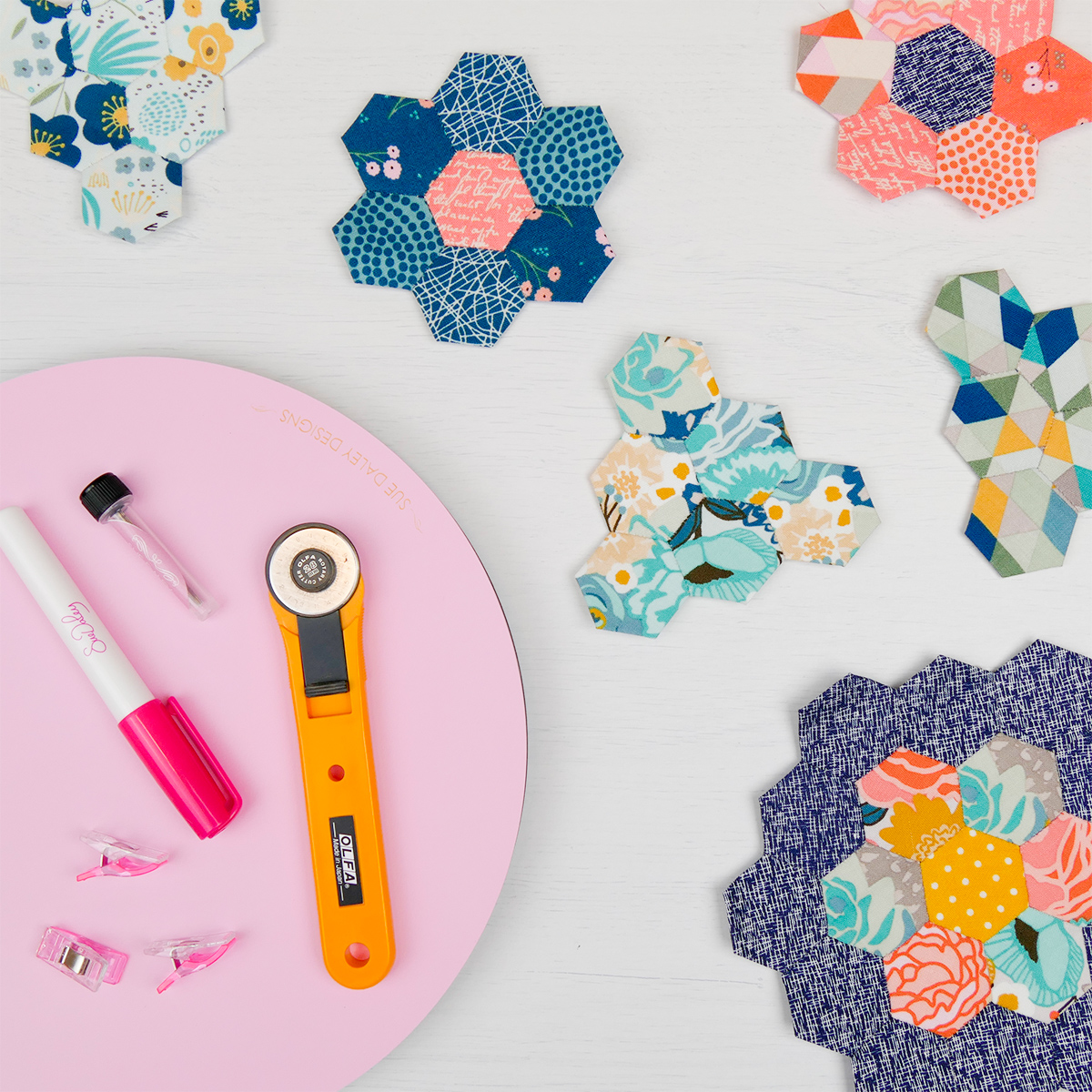 Starting from March 1, every week I will be posting the next step on my Instagram account (@suedaleydesigns) and here on my blog.
This is a fantastic quilt design for both beginners and advanced English Paper Piecers. There is a pattern available for this quilt, but you don't need to purchase it if you do not wish to as all the instructions will be provided week by week. Each week we will be making around 5 hexagon flowers, so it is an easy project to fit in to your schedule – and also to move through your fabric stash! We will be working at a manageable pace, so if you are someone who likes to steam ahead I recommend visiting your LQS to purchase the pattern!
To make this quilt I began with a 10″ stacker, then cut more fabrics as I needed to. The approximate requirements for this quilt are below. Please note that these are a guide only – you may need more or use less depending on how you cut your shapes and if you choose to fussy cut. If you are working from your stash this will help give you a rough guide of how much fabric you will need.
---
ROSE OF KALEIGH REQUIREMENTS (For my Ava Rose version – 60″ x 75″)
1 – 10" stacker (42pc)
plus extra:
15cm (1/4yd) blue fabric (C5875-blue)
60cm (5/8yd) cream fabric (or 20cm (1/4yd) each of C5872-cream, C5873-cream, C5876-teal)
25cm (3/8yd) coral fabric (or 4 x 2.5" strips of C5871, C5873, C5874, C5876)
40cm (1/2yd) grey fabric (or 20cm (1/4yd) each of C5875-grey, C5874-grey) 
75cm (7/8yd) navy fabric (C110-navy)
75cm (7/8yd) navy stripe fabric (C495-navy)
1 x 2 ½" strip yellow fabric (C670-mustard)
3.2m (3 ½yd) cream fabric for background
50cm (5/8yd) fabric for binding
1485 – ¾" Hexagon pre-cut papers and acrylic template
YOU WILL ALSO NEED
Sue Daley Sewline Glue Pen (and refills!)
Sue Daley Milliners Needles
Superior Bottom Line Thread
Sue Daley Applique Glue
---
All of these supplies can be purchased from your local Sue Daley Stockist. I also recommend using my pink rotating mat to cut your shapes, and quilting clips to hold your shapes in place while sewing.
I encourage you to get creative with your fabric choices and make Rose of Kaleigh in any fabric you wish to. Find a new range you love or just comb through your stash!
If you would like to make this quilt in your own fabrics, you can download a grid layout of the quilt pattern here to help you with fabric placement.
I can't wait until March 1!
Until next time,