Paper Lanterns Sew Along Week Two
Hi Everyone! We're up to Week Two of the Paper Lanterns Sew-along and from all the messages I've received this past week I'd say that you're all a bit eager to get started. I have enjoyed all of the progress photos that you've all been sending me, please keep it up. I hope you are all enjoying the sew-along so far as much as I am. I was sent a great quote this week from a good friend that I wanted to share with you all.
"The power for creating a better future is contained in the present moment. You create a good future by creating a good present." Eckhart Tolle
I know that what is happening in the world around us is scary & unknown but I hope for a small part of your day I can help you forget for a moment and enjoy sitting down and taking some time for yourself. Picking up a needle has been the best and worst for me. The last time I picked up a needle I was sitting on the couch alongside Jim watching something on telly. In the moment neither of us knew how important that time was. We take the little things for granted and unfortunately don't realise until it is too late. Taking the bins out, emptying the dishwasher, filling up the car with fuel. All of these things seem so minor and the tasks themselves are however when you sit in your car in the driveway and look down to see that the needle is on empty and its in that moment you realise how important that person was to you. Of course we know how important they are but you never realise all the little things they did. All the little moments that make up the time you have together. Time is your most precious resource, make every minute count.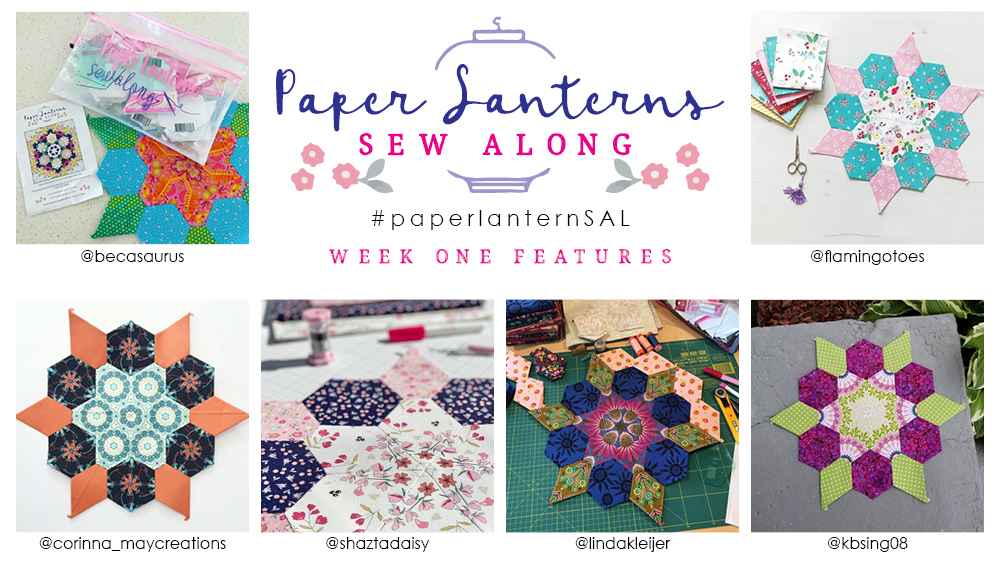 Alright onto week 2, this week we are continuing to work on the centre block.
Requirements:
Navy – 2" Hexagons (6)
White Text – Floral Lantern Jewels – Fussy Cut (12)
Black and White Stripe – Floral Lantern Jewels – Fussy Cut (24)
6 – 2" Hexagons
Follow the EPP instructions to prepare the following shape as shown in the diagram. I have fussy cut both the Black & White Dot Stripe and the White Text print from top to base. If you are using one of our kits the fabric requirements will allow you to fussy cut as shown, be sure to check twice before you cut to ensure you have enough repeats.
When fussy cutting the White Text print I didn't line up every text to be the same, however I did ensure that my text was going the same direction i.e. I cut my Floral Lantern Jewels with the text running from tip to base.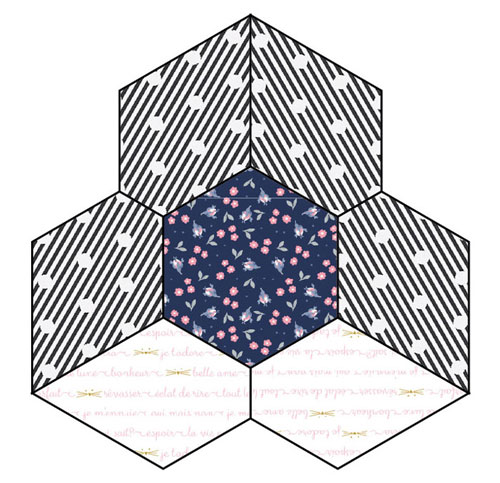 Make 6
Tip: For those using one of my fabric kits, from the seven low volume fabrics I cut 12 jewels from the white text print first for the centre block before I cut any of the outer blocks. This is to ensure that I had enough to fussy-cut the jewels.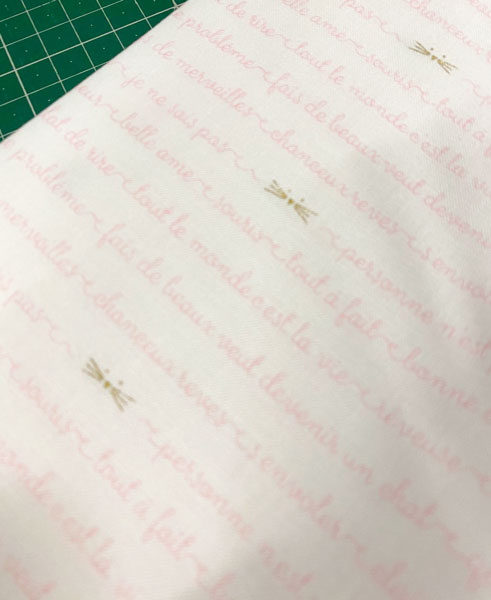 Once you have completed the 6 blocks, then sew the six blocks to the outside of the centre block sewn in week 1 as shown in the diagram below.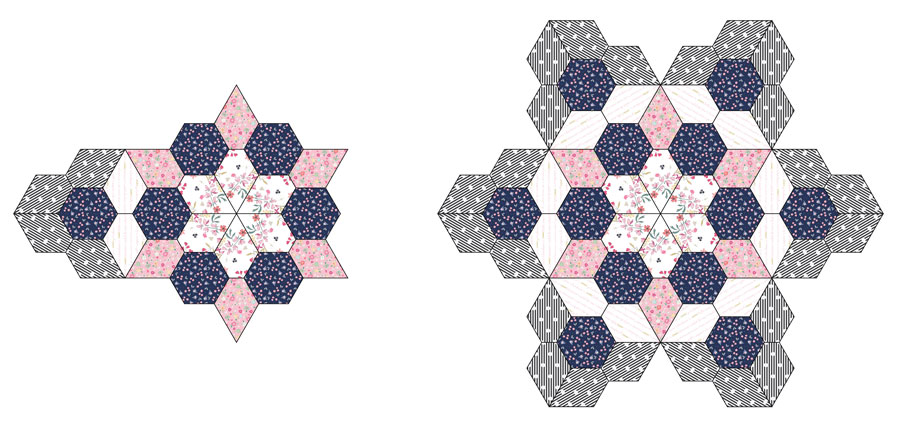 And now you have completed the centre block! Next week we are moving onto the pie blocks. Make sure you use the hashtags #suedaleydesigns and #paperlanternsSAL when posting on social media. I've received some lovely messages and comments this week so thank you for joining me.
I cannot wait to see everyone's progress. See you next week for some pie!