Paper Lanterns Sew Along Week Five
Hi Every! Welcome to week 5. This week if much the same as last week except we're now moving onto the blue jewels for our next pie block.
This past week I have received a few messages asking me how I choose which colour thread I'm going to use when working with some many colours. I follow a few basic rules when picking my thread. If you're working with white or black fabric use white or black thread. Don't try and meet in the middle by using grey thread as this will make your work look dirty. The same goes with if you're sewing red & black fabric together, use a red or black thread.
This past week I have been really impressed with the block progress and the fabric choices. Watching all your blocks come together fills my heart and I just love that we will all have a quilt that we'll be able to look back on this time and remember (as strange as it has been there will also be some great memories). Below are some of my favourites from the past week. Be sure to tag me so I don't miss seeing yours.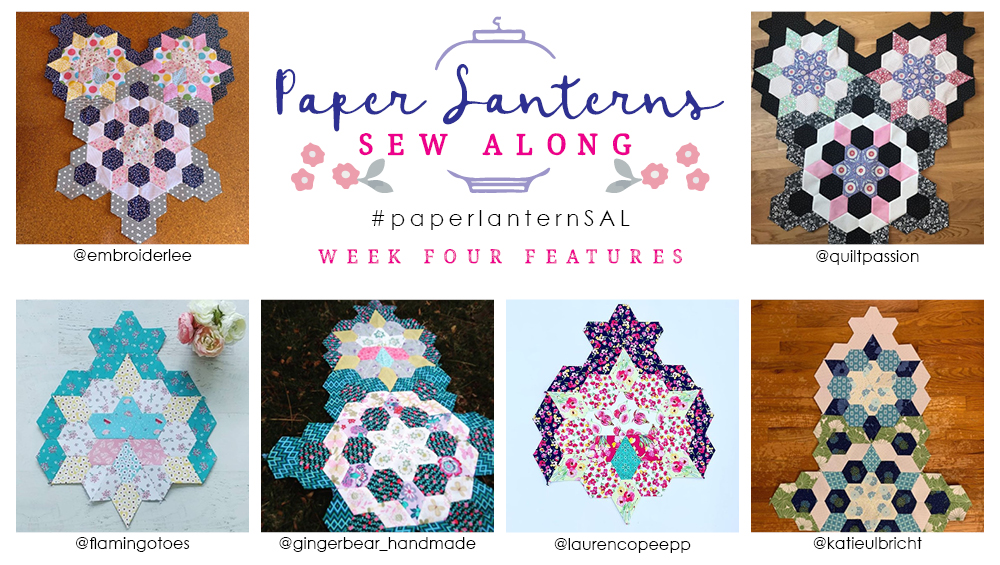 Requirements
Floral 1. Jewels (3) Fussy-cut
Pink 1 Jewels (2)
Blue Jewel (1)
Spot 2" Half Hexagons (12) Fussy-cut
Blue Jewels (6)
Navy Jewels (11)
12 – 2" Half Hexagons
Follow the EPP instructions and diagrams to make the following.
For those who may have missed my IGTV, head on over to my Instagram page and watch my most recent IGTV on English Paper Piecing. I cover my tips & tricks from cutting, glueing, sewing etc. You'll be sure to learn something new.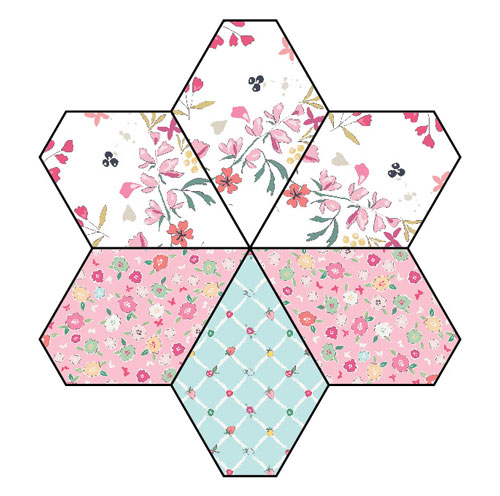 Spot Half Hexagons
Cut 12 half hexagons on the same pattern repeat.
Hint: Sticky dots are useful for this as it keeps the original piece stuck to the template so you can line up the next piece to cut.
Once you have pieced the half hexagons together you should have six fussy-cut hexagons.
Sew all of the pieces together as shown in the diagram.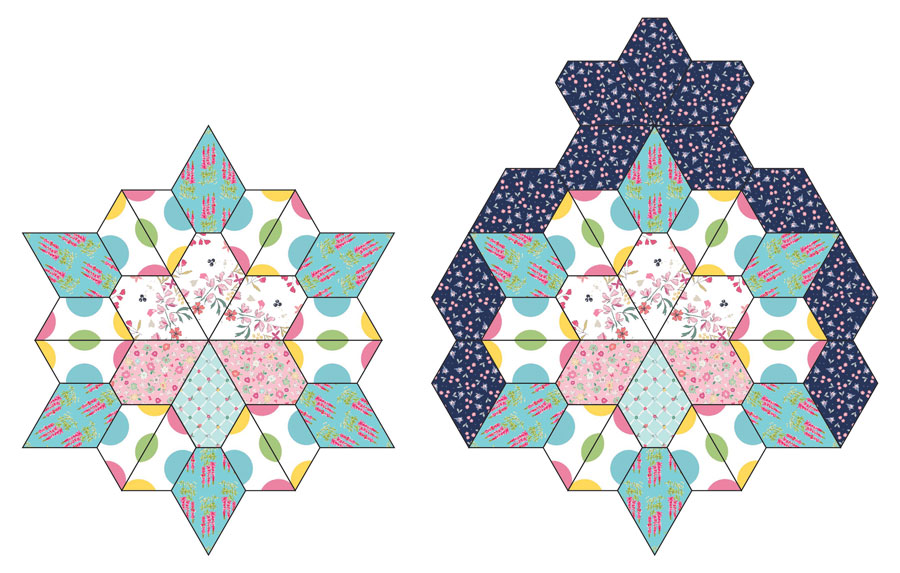 And that's all for week five of the paper lanterns sew-along.
After you have completed this week, we have 3 more pie blocks to go and then we move onto another block. I know the repetition can sometimes get a little boring but by the look of all of your blocks it will all be worth it when you start seeing your quilt form.