Paper Lanterns Sew Along Week Fifteen
I took a few days away this past week with my daughter to reset and get away from being cooped up at home. It was so loving to take some time out, enjoy the outdoors, spend time with loved ones and catch up with a friend that I hadn't seen for a while, I did miss my Billy though, and he was glad to have me home.
I did squeeze in some time for sewing and have 2 pieces to attach and this weeks block is done. We're onto something new this week. Finished quilt tops are popping up everywhere and its been so lovely to see all the different colour-ways.
Requirements
Yellow Floral Lantern Jewels (6)
Lemon Floral Lantern Jewels (6)
Coral Floral Lantern Jewels (2)
Pink Floral Lantern Jewel (1)
Grey 2″ Half Hexagons (8)
White Floral 2″ Half Hexagons (8) Fussy-cut
16 – 2″ Half Hexagons
Follow the EPP instructions and diagrams to make a Floral Lantern Jewel Flower.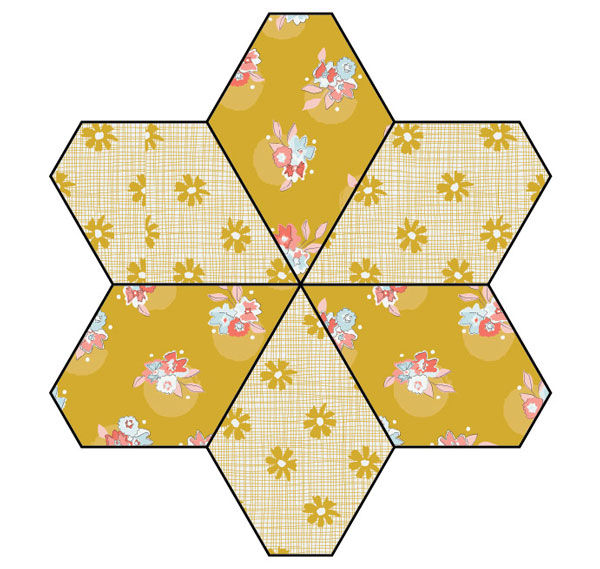 Make 2
Sew the coral and pink floral lantern jewels together to make the folloing.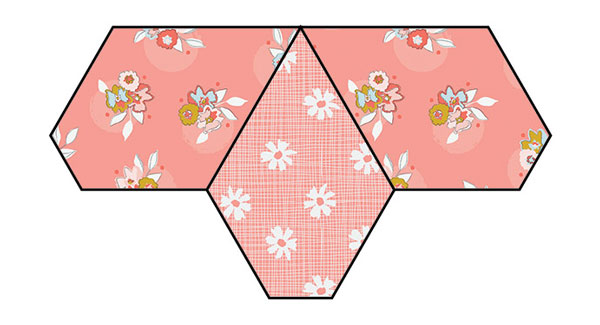 Make 1
Sew a fussy-cut white floral 2″ half hexagon to a grey 2″ half hexagon to make a hexagon shape.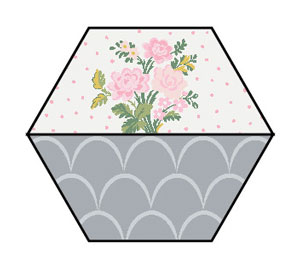 Make 8
Hint: To cut the basket bases I cut strips the width of the 2″ half hexagons ensuring the template is facing the correct direction every time so the scallop design in the fabric are over-arches. If you're using a different fabric from that pictured ensure you place your template the same way every time if your fabric is directional.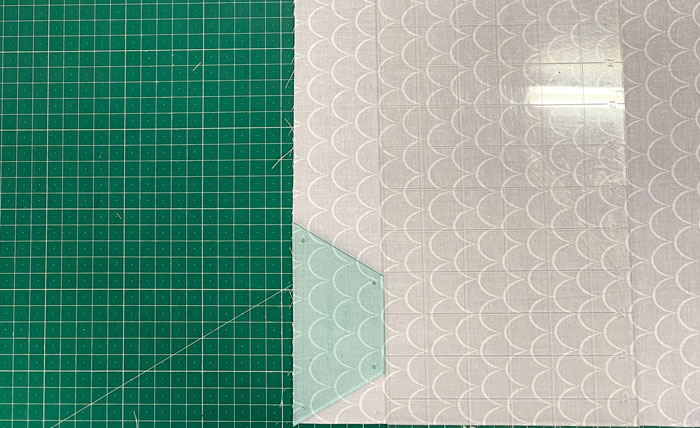 Hint: When fussy-cutting the white floral fabric for the 2″ half hexagons I have laid out the templates like the image below to get the most repeats. You could, however cut strips between the 2 templates and then cut your half hexagons out. Many of your are using different fabrics for your flowers therefore you'll need to adjust based on if you're fussy cutting or not.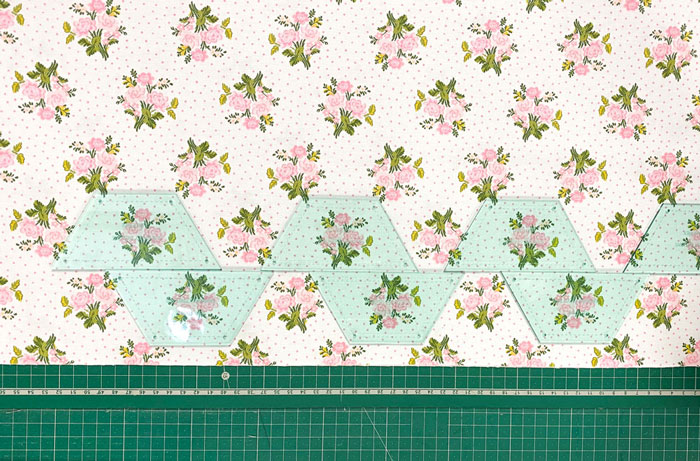 Sew 4 floral/grey hexagons to a yellow floral lantern flower.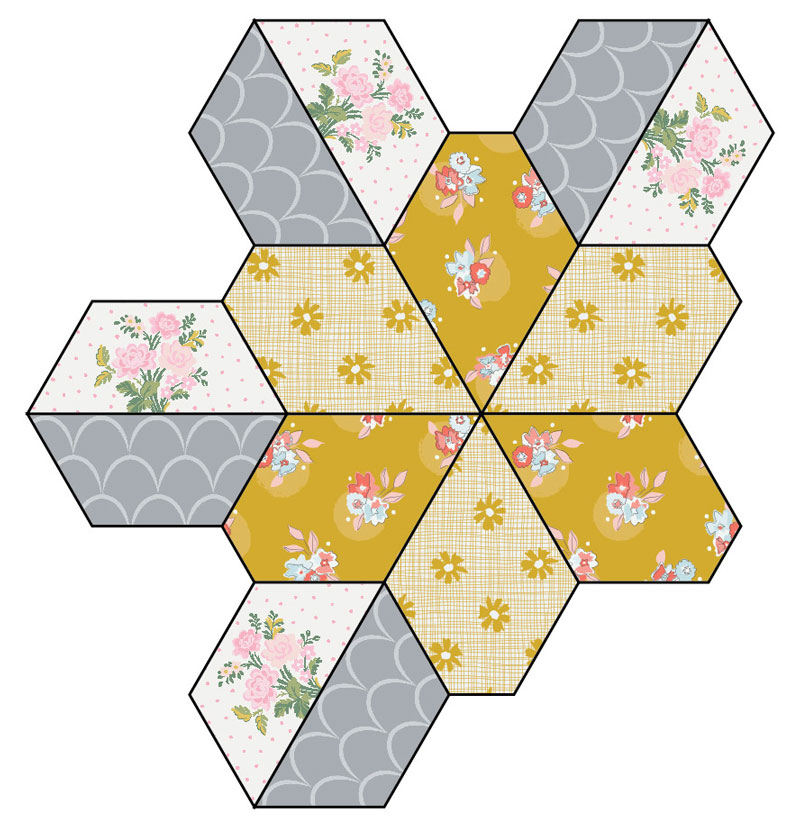 Make 1
Sew the remaining four grey/floral hexagons to the other yellow floral lantern jewel flower.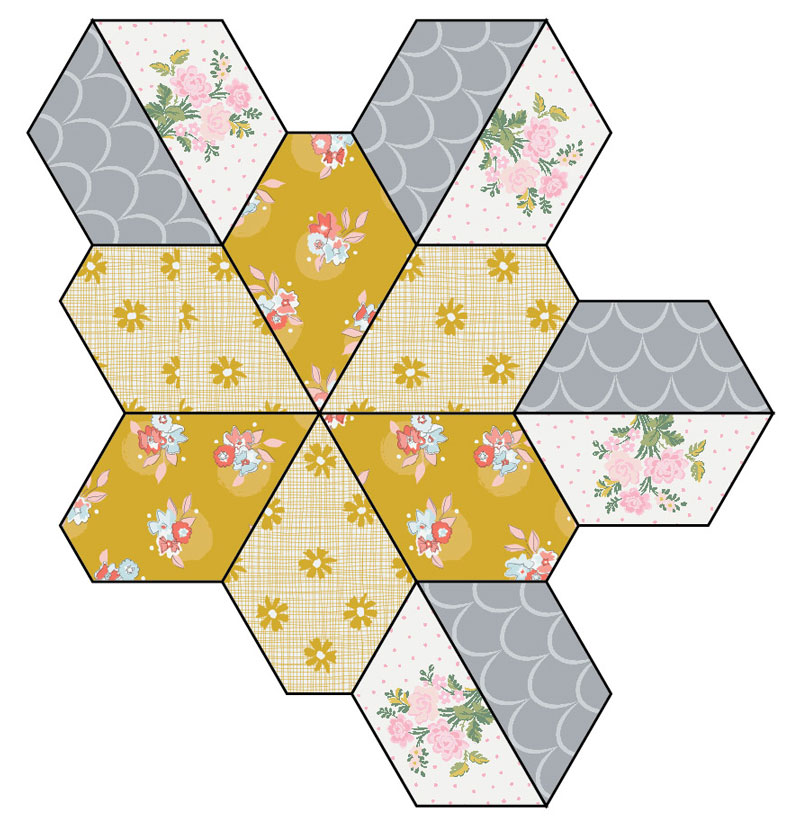 Make 1
Sew these two pieces to the pink floral lantern half flower.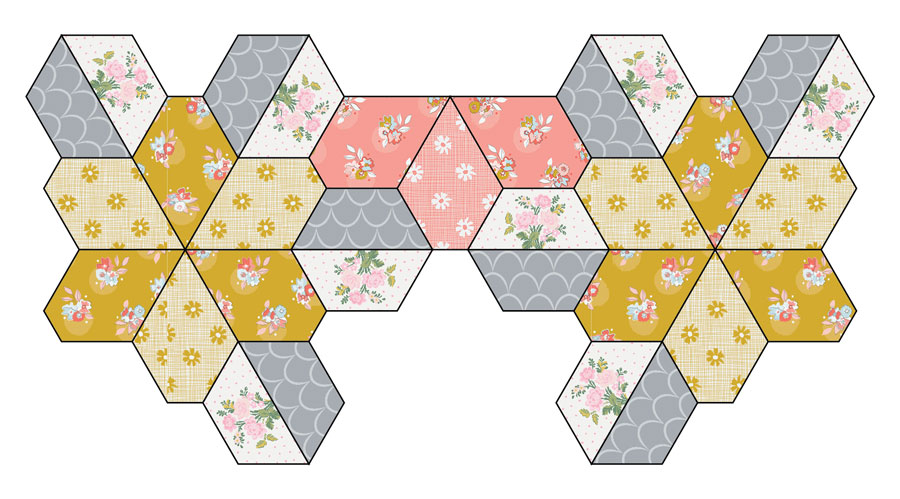 I hope you're all keeping safe and staying sane. We're not in locked down here in Queensland however many of my friends are down south in Victoria. I'm keeping my distance and limiting my trips out of the house but I'm still enjoying my walks with Billy and getting some fresh air whenever I can.
Till next week