Paper Lanterns Sew Along Week Eight
Yes!!! We've made it to the final week of the pies! Well done to everyone for getting this far. Your centre is almost complete.
We've been overwhelmed with the popularity for my Paper Lanterns Sew Along and didn't expect the reaction, I'm humbled that so many of you have chosen to sew along with me when there is so much to choose from out there. My team have been working very hard to get more fabric kits and paper & template packs available for you. We have released a new round of pre-orders for the fabric kit available at Patchwork with Busyfingers
which are due to arrive late June.
I had to pull my quick unpick out this week as I wasn't paying attention and I sewed the navy on the wrong side, it's not the first time and it won't be the last but we're human and I believe that there is a lesson to be learnt in every mistake. I was rushing to get my block done, instead of sitting down and enjoying an hour of me time I rushed to finish the block which ended up taking me double the time to finish by the time I unpicked and resewed the shapes which I then dreaded and put down and lost motivation to sew it again so what would have taken an hour took me 3 by the time I did the laundry & cleaned the kitchen and tried to find anything else other then having to sew that block again. Is it just me or do others feel cheated when you have to sew something twice? Next week I will slow down, use my quilt clips and make sure I'm following the directions as instructed by me lol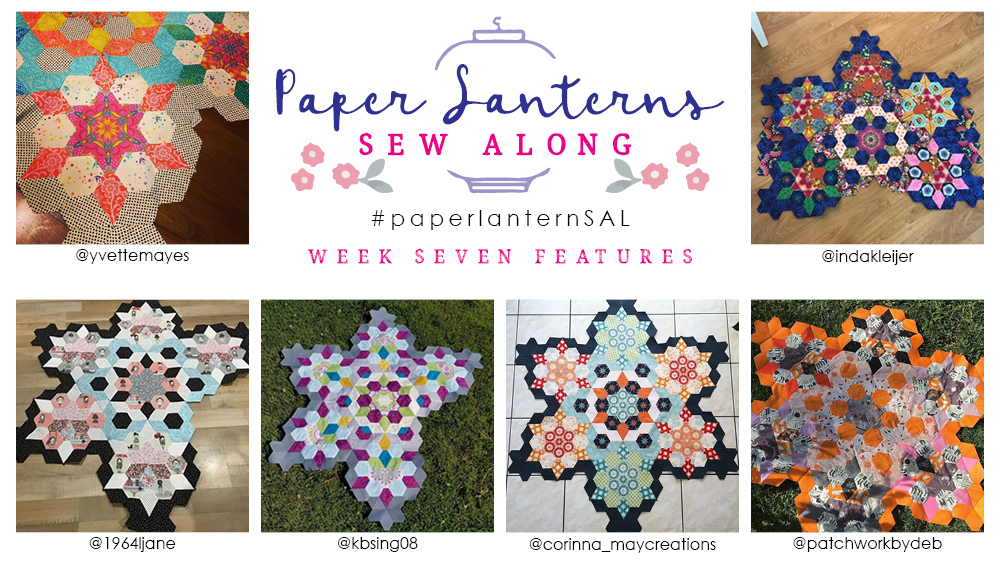 Onto week 8 of the sew-along. It has been brought to my attention this week that the mock up of the quilt which is what I use in the weekly posts has used the Boy Large Dot however my kit and all those who ordered the Patchwork with Busyfingers kits have the Rainbow Large Dot. This doesn't change the quilt as the focus is the coloured dots lining up with the coloured jewels however for those trying to make their blocks match exactly to the mock-up will have noticed that there are no grey dots. I'm so sorry for any confusion this has caused, I'm sewing along with you all and hadn't noticed myself until a customer pointed it out this week.
Requirements
Floral 1. Jewels (3) Fussy-cut
Pink 1 Jewels (2)
Blue Jewel (1)
Spot 2" Half Hexagons (12) Fussy-cut
Orange Jewels (6)
Navy Jewels (11)
12 – 2" Half Hexagons
Follow the EPP instructions and diagrams to make the following.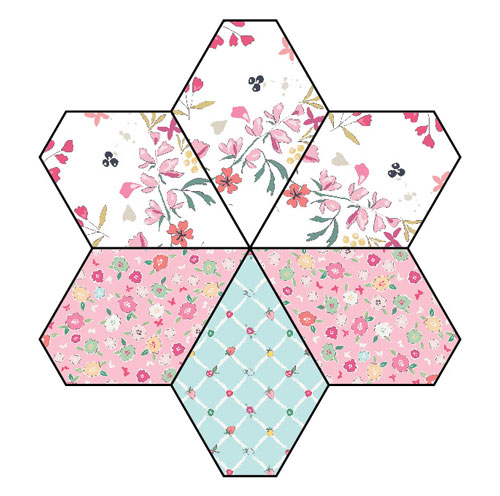 Spot Half Hexagons
Cut 12 half hexagons on the same pattern repeat.
Hint: Sticky dots are useful for this as it keeps the original piece stuck to the template so you can line up the next piece to cut.
Once you have pieced the half hexagons together you should have six fussy-cut hexagons.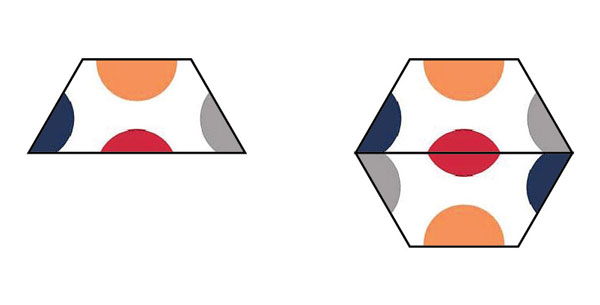 Sew all of the pieces together as shown in the diagram.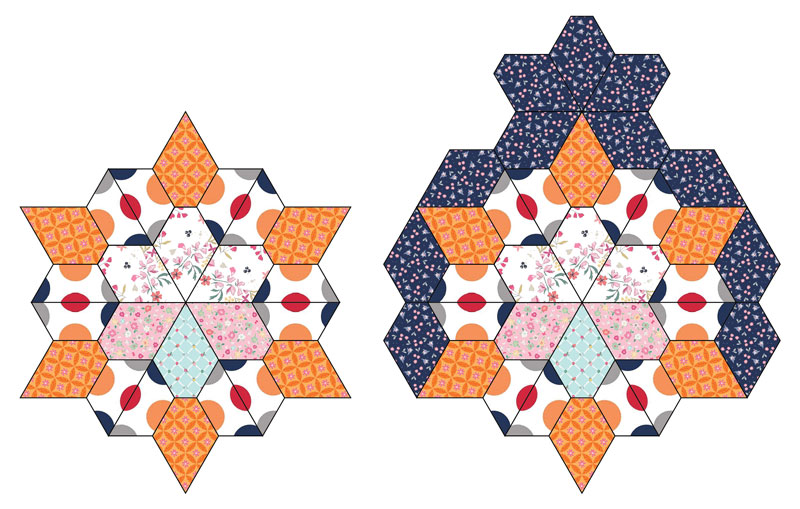 And that's all for week eight of the paper lanterns sew-along.
Next week we introduce some new fabrics and work on a new block! Anyone else excited?