Here in the Southern Hemisphere the official first day of Spring is September 23rd. However, we typically celebrate the first day of Spring on the 1st of September, likely because it's easier to remember but nonetheless Queensland has turned on the weather for us and I'm not complaining.
Like so many I like to celebrate new beginnings by heading outside and appreciating nature. With everything happening so many of us are unable to travel and enjoy these warmer days. So instead I have decided to kick off the Spring Equinox with a fun and simple sew-along and what better than the Bring Me Sunshine Quilt. I know many of my friends in the northern hemisphere are getting ready for the winter but that's okay, you can join us too and keep warm imagining the warmer days ahead however lets not forget Autumn in our northern countries. I'm 100% a summer girl but I just love the autumn leaves and watching the season change, I still remember travelling when I was younger and experiencing it for the first time… it was Magic!!!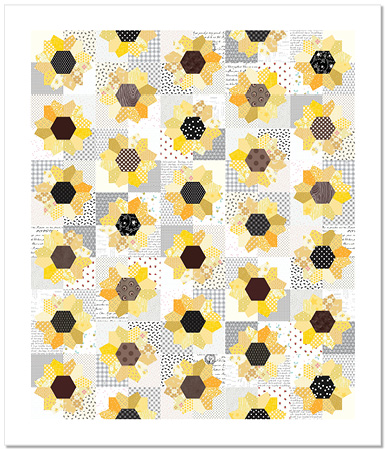 Over the next 15 weeks I will be posting 2 blocks per week right here on my blog for you to follow along at home. Patchwork with Busyfingers is fully stocked with a variety of options so everyone can join in. This includes:
Full Quilt Fabric Kit
Pattern & Papers – BYO fabrics
PDF Pattern – BYO fabrics & papers
Sunflower Fabric Starter pack
If you already have the kit, pattern and/or papers at home – you can join us too, simply pull out your supplies ready for September 23rd.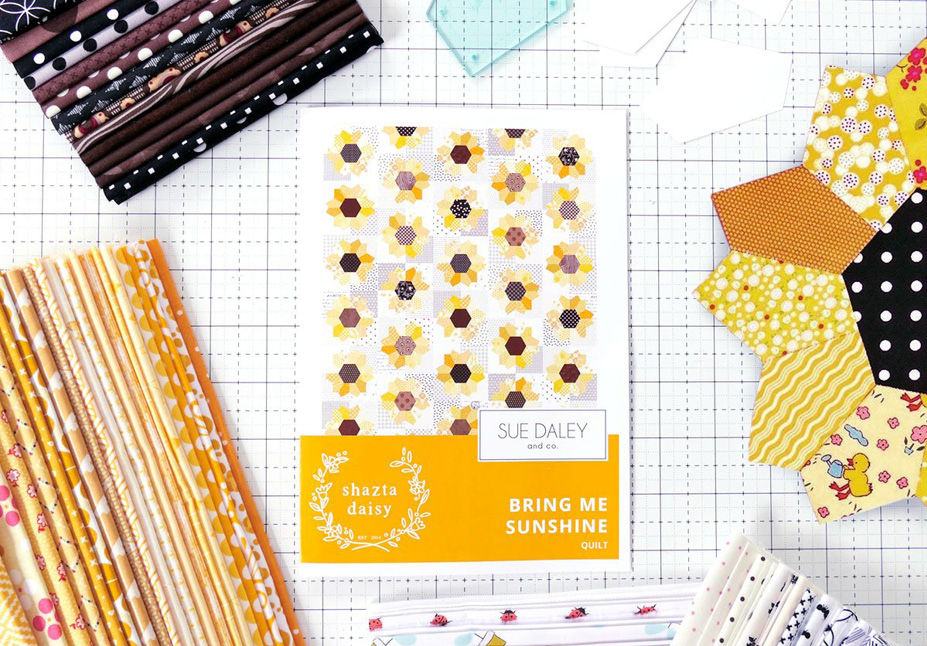 Bring Me Sunshine supplies list
Other things you can do to celebrate Spring Equinox
While I love to sew and to keep my hands busy I also enjoy getting outside and getting into the garden. I'm missing my garden terribly as I'm currently building and don't have my gardens to play in however here are a few other things I like to enjoy in the warmer months
Plant something new
Prepare a feast for my family (or your housemates in lock down)
Do a Spring Clean of my home (When I have one)
Start a new project
Add a new daily routine such as a morning walk to catch the sunrise
Take up meditation even if that means sitting on your wardrobe floor for 10 minutes each morning
Start journaling
I go through stages however I try to spend 10 minutes each morning journaling. At first I had no idea what it was or what I was meant to be writing down but I can assure you once you start it will eventually start feeling amazing emptying your head, the hardest part is simply starting. Get yourself a brand new notebook and just start writing. If you're new to journaliing here are a few writing prompts for beginners, and remember don't think too much about it just write whatever comes into your head. No one is going to read it so, it…… doesn't…… matter…….
How do I feel?
How do I want to feel today?
What do I need most today?
What am I grateful for?
What was my biggest lesson or achievement today/this week?
What am I excited about today?
What is my biggest fear?
If I could change one thing about my present life, what would it be?
Sew-Along Prizes
Each week Patchwork with Busyfingers will be giving away a $20 Gift Voucher to spend on anything online, all you need to do to be in the running is simply post a styled shot of the past weeks 2 blocks and include the code word from that weeks blog post in your caption, the code word will be hidden someone in my blog post so you'll have to find it. Be sure to use the following hashtags so we can find your post #bringmesunshineSAL and tag @patchworkwithbusyfingers
NOTE: The Bring Me Sunshine giveaway hosted by Patchwork with Busyfingers is not sponsored, endorsed or administered by, or associated with Instagram or Facebook. Open Worldwide. Winners will be chosen and announced in the following weeks blog post. Prizes will be delivered via email and the recipient is responsible for shipping costs and any extra charges for additional products purchased.
I cannot wait to get started with you all, be sure to tag me as I would love to see your progress @suedaleydesigns when you post to facebook or instagram.
I look forward to sewing with you!