Illuminate Sew Along is coming soon!
Today I wanted to introduce a new Sew Along that is starting next month! It is a fun, bright project using only 3 different English Paper Shapes – Lozenge, 1″ 6 Pointed Stars and 2″ 6 Pointed Stars. We have a lot of fun with fabric placement to create a rainbow effect throughout the quilt. Each week I will post the next step right here on my blog.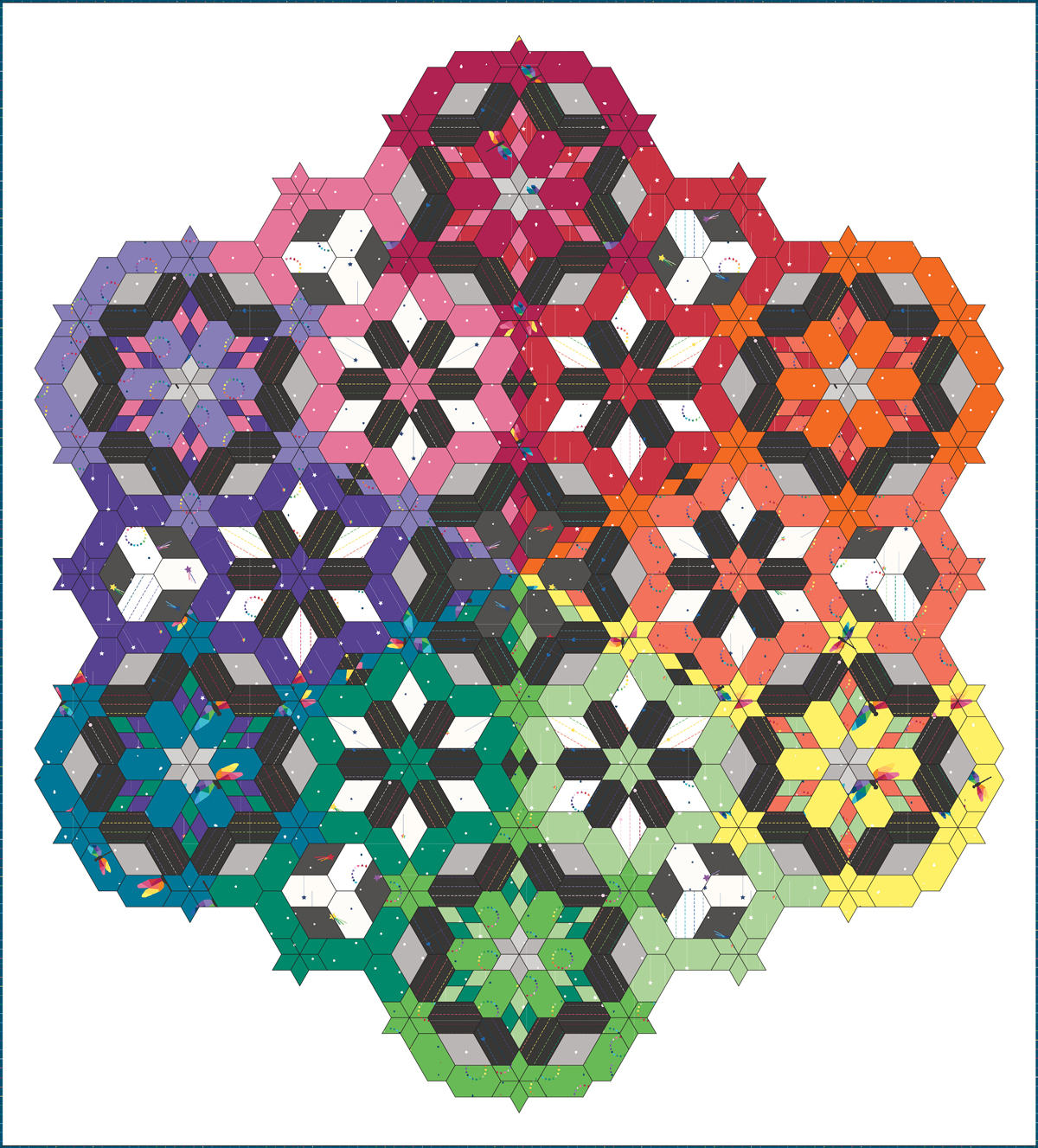 This quilt project is suited for all levels of proficiency. If you are just getting started with EPP, I recommend watching my video tutorials where I go through my favourite tools, notions, and how to get started. This project may look daunting for a beginner, but let me assure you that the techniques and process are the same regardless of the size of the project, so don't let anything stop you! I say go for it.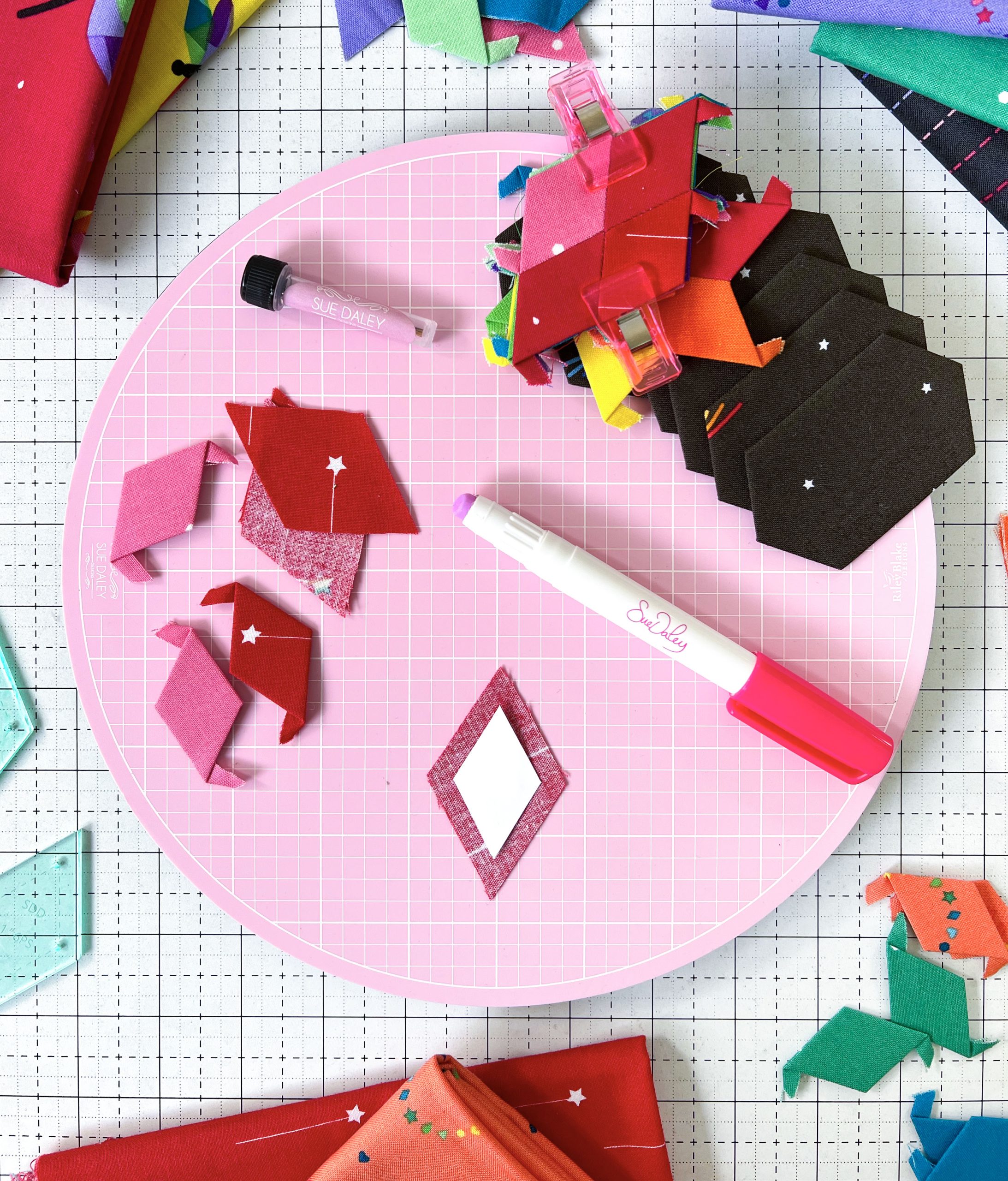 For this project I have chosen my fabrics from the Riley Blake collection 'Imagine', designed by fellow Aussie Kristy Lea of Quiet Play. It is full of bright, fun prints in a rainbow of colours. If you wish to follow along with me, there are several different kits available for purchase:
Full Quilt Kit
Pattern with Papers + Templates (for those who like a printed booklet as well as following along on the blog)
Papers + Template pack only (no pattern – follow along weekly on the blog)
Retailers stocking some or all of these options include Patchwork with Busyfingers, Fabric Pixie, Art N Quilting Studio, & Red Heart Designs.
If choosing your own fabrics from your stash I would recommend bright, simple prints that showcase colours across the spectrum so you can create a rainbow effect throughout the quilt as I have done. You will also need some low volume prints and some dark charcoal greys or blacks. Or if you have confidence in choosing something a little different to me, I encourage you to have some fun and come up with your own spin on this quilt.
Below are the requirements for the quilt:
14 – 25cm (3/8yd) AWOF strips of Imagine fabric for EPP (c12161-coral, c12161-green, c12161-purple, c12162-crimson, c12162-teal, c12162-yellow, c12163-charcoal, c12164-green, c12164-purple, c12164-red, c12166-gray, c12166-green, c12166-hot pink, c12166-orange)
5 – Fat 1/8s of Imagine fabric for EPP (c12161-white, c12162-gray, c12163-offwhite, c12164-offwhite, c12165-white)
1.05m (1 1/8yd) Imagine c12165-charcoal stripe fabric for EPP
3m ( 3 3/8yd) C120-Riley White fabric for background
40cm (1/2yd) Imagine c12165-blue stripe fabric for binding
67" x 73" piece of backing
67" x 73" piece of wadding
Sue Daley Designs Milliners Needles Size 11 or 15
Sue Daley Sewline Glue Pen
Sue Daley Designs Applique Glue
Wonderfil Deco Bob Thread
324 Lozenge papers
520 1" Six Pointed Star papers
96 2" Six Pointed Star Papers
The Sew Along will officially begin 17th of August – I hope to see you then!