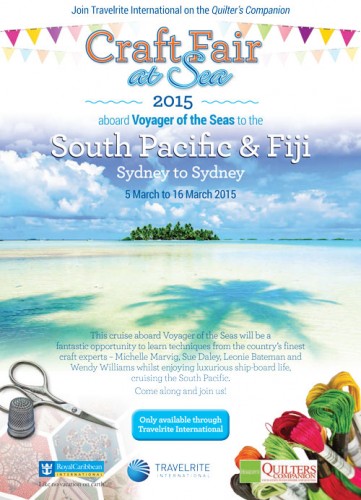 As most of you know I love cruises and what better way to combine working and travel with a teaching cruise. I will be teaching as part of the Craft Fair at Sea Cruise in 2015 bought to you by Travelrite.
Join me for a class aboard the Voyager of the Seas with the Royal Carribean next March as we cruise the South Pacific, make new friends and learn some great new crafting skills.
Joining me on the cruise is a great friend of mine from the Quilted Crow Girls, Leonie Bateman. Along with Michelle Marvig and Wendy Williams. It's gonna be a great trip!
I will be teaching the following classes, make sure you book in quick as class numbers are limited to 22 people.
Marmalade Quilt

On the Go Bag

My Mysterium Quilt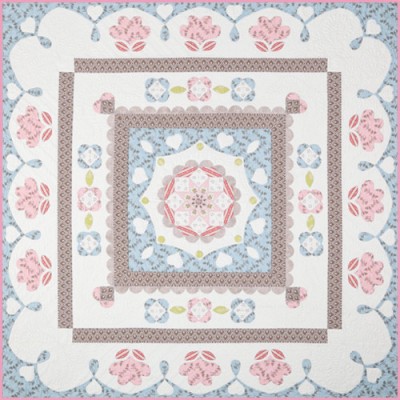 Clamshell Organiser

Playing with Paper Masterclass
Will be a real hands-on class to get you playing with lots of paper shapes and learning the finer points of English Paper Piecing.
Tour inclusions

Departs Australia Thursday 5 March 2015
12 days/11 nights on the luxurious Royal Caribbean, Voyager of the Seas
Book up to ten lessons given by Michelle Marvig, Sue Daley, Leonie Bateman and Wendy Williams • Sightseeing tours of Noumea, New Caledonia; Lautoka and Suva, Fiji
Fully escorted by Travelrite International Tour Managers
All meals on board Voyager of the Seas
Kits for the classes will be available to purchase from Patchwork with Busyfingers closer to the cruise date.
For all enquiries and bookings for the cruise, please contact Travelrite directly or see the full brochure here.