It is sew-along day! This week marks the first week of November, for many of my followers you have just celebrated Halloween but for us in the Southern hemisphere we're just 1 month away from my favourite season SUMMER!! I cannot wait to spend more time down by the beach, outside with friends and enjoying BBQ's with my family. I have already pulled out my summer wardrobe last month and just love love love this time of year.
Its a pretty busy time of year for our team, with all hands on deck wrapping gifts and packing my Baker's Dozen Christmas box ready for those who have pre-ordered to start opening their gifts on December 1st. We also take some time off over Christmas & New Year with many of my team taking a couple of weeks off to spend with their families. Unfortunately along with many others I won't be with a lot of my family this year due to international border closures and this silly shoulder of mine, I'm a little nervous to travel too far. I'm sure it will get easier but for the moment the pain is too much and I've been knocked quite a few times in the shops, its not worth the discomfort.
Now for Week 7 we are creating the following two blocks.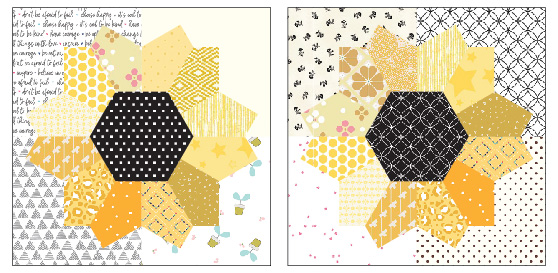 To create these two blocks I create two pieced sunflowers using the EPP method.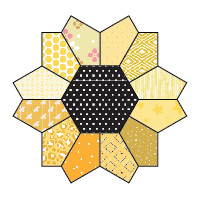 Next I take 4 low volume squares and sew them together to make a background block. Repeat this step.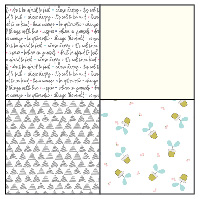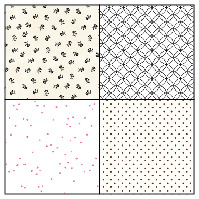 Finally, line the pieced sunflowers up to the centre of the background squares and applique the pieced sunflowers to the blocks.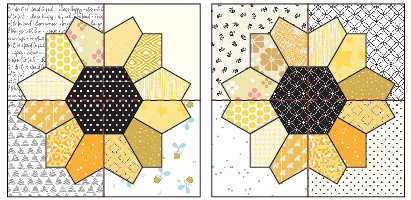 That is it for this week. We have now completed Week 7 of the sew-along.
Sew-Along Prizes
Patchwork with Busyfingers will be giving away a total of $300 in Gift Vouchers to spend on anything online, all you need to do to be in the running is simply post a styled shot of the past weeks 2 blocks. Be sure to use the following hashtags so we can find your post #bringmesunshineSAL and tag @patchworkwithbusyfingers
NOTE: The Bring Me Sunshine giveaway hosted by Patchwork with Busyfingers is not sponsored, endorsed or administered by, or associated with Instagram or Facebook. Open Worldwide. Winners will be chosen and announced in the following weeks blog post. Prizes will be delivered via email and the recipient is responsible for shipping costs and any extra charges for additional products purchased. We reserve the right to alter the individual prize values and drawing dates. In the event we do not have enough entrants we will combine the total prize pool and announce a grand prize winner upon completion of the sew-along.
Only a few more weeks to go before we all have a completed quilt! Don't forget to tag me @suedaleydesigns if you share your work to social media.
See you next week.