Hello everyone and welcome to week 5 of the Bring Me Sunshine SAL.
Do you ever find yourself looking back and thanking yourself for something you did last week, month, year? Being so organised and doing the preparation back then not realising what would be ahead of you, well that's me this week. I'm so grateful that back in week 1, I cut and prepared almost all of my pieces for each block having no idea that come week 3 I wouldn't be able to sew, my team are also very thankful lol what would we do without our support team.
Although I work mostly as I go, when I'm working on a project that has already been designed I like to get as much preparation done at the beginning so I can just pick it up and sew whenever I have the time. This is most definitely a learnt skill for me though, it did not come natural and I normally have to talk myself into doing it but future self knows past self needs a little kick sometimes. Plus I'm more likely to get it finished if I have already put in so much work into the preparation. What is your method?
Now onto the sew-along where we will be making the following two blocks.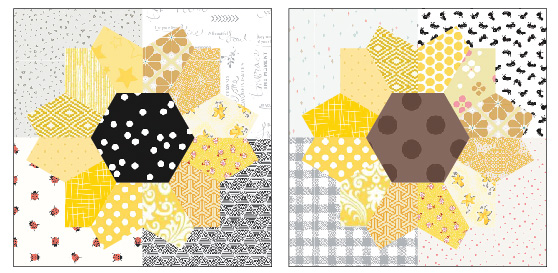 For the week 5 block made 2 pieced sunflowers and 2 background blocks as show in the diagrams. Don't you just love these fun background fabrics I'm using. Those ants and ladybugs are so sweet.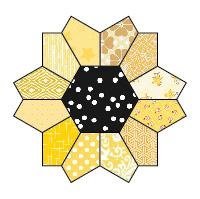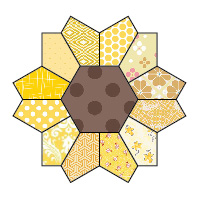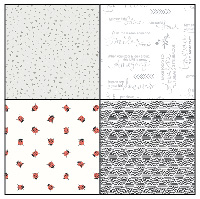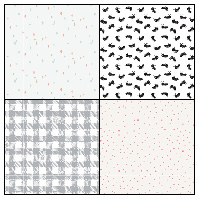 Take the pieced sunflowers, press, remove papers and align them to the centre of each of the background blocks. Applique the pieced Sunflowers to their backgrounds.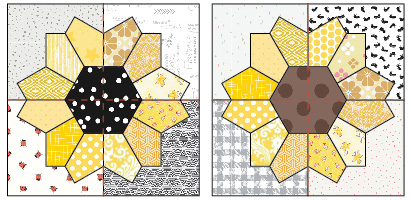 Press.
And just like that we are 1/3 of the way through our blocks.
Now speaking from past experience, another example of past and future self. I like to applique as I go. I love applique but when you get to the end and have 30 blocks to applique you may wish you gave past self a little nudge lol. So I encourage you to applique your 2 blocks each week and then once we reach the end your blocks are completed and just need to be joined.
For anyone just joining us, we have patterns, kits & fabric packs available so you can join in anytime.
Bring Me Sunshine Printed Pattern
All other notions & supplies you might need
Sew-Along Prizes
Patchwork with Busyfingers will be giving away a total of $300 in Gift Vouchers to spend on anything online, all you need to do to be in the running is simply post a styled shot of the past weeks 2 blocks. Be sure to use the following hashtags so we can find your post #bringmesunshineSAL and tag @patchworkwithbusyfingers
NOTE: The Bring Me Sunshine giveaway hosted by Patchwork with Busyfingers is not sponsored, endorsed or administered by, or associated with Instagram or Facebook. Open Worldwide. Winners will be chosen and announced in the following weeks blog post. Prizes will be delivered via email and the recipient is responsible for shipping costs and any extra charges for additional products purchased. We reserve the right to alter the individual prize values and drawing dates. In the event we do not have enough entrants we will combine the total prize pool and announce a grand prize winner upon completion of the sew-along.
Remember to tag me @suedaleydesigns if you share your progress to social media, or email your photos to sales@busyfingerspatchwork.com and we can share on your behalf.
See you all next week.