Wow what a difference a week can make. It's officially week four of the Bring Me Sunshine sew-along but before I get started I just wanted to update those who sent messages asking about what I did and how I was going. Just over a week ago I had an accident which landed me on my left shoulder breaking my shoulder and fracturing the ball. The pain was so intense I found it hard to breath, waiting for the ambulance to arrive which took over an hour felt like a lifetime. Finally when the paramedics arrived I was greeted with 3, 2 experienced and a trainee. I was so relieved when I heard the sirens and for a split second I didn't feel any pain but before I knew it, I could feel it all again but just knowing someone was there to help me and that I was going to get me some relief was relief in itself.

I won't bore you with the boring stuff but in a nutshell I was sent home with no pain relief and we had a public holiday here the next day so safe to say I was not a very happy girl. I spent the week in what I'd say was the most pain I've ever felt, after many Telehealth calls I finally got some drugs but it wasn't until I was able to see the fracture specialist that he took one look at me and said what have they done to you. The sling I was given was applied incorrectly which was the main cause of the extra discomfort. I cannot thank my specialist enough for the instant relief, I was like a new person. So with a long road ahead of me, 8 weeks healing and then 6 months physio, I'm just taking 1 day at a time because really what are my options lol.
Thank you for all of your kind messages!
Let us move on to this week.
Starting on the blocks, this week we make another two of the pieced sunflowers.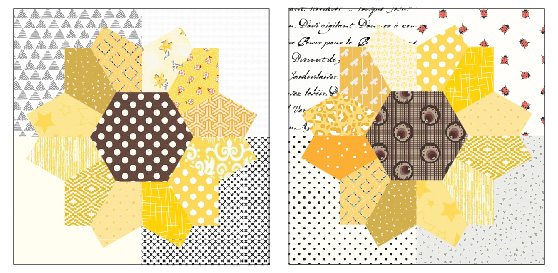 Follow the EPP instructions and sew the blocks as shown in the diagram.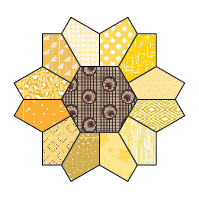 Sew the background pieces together as shown in the diagram.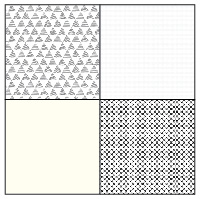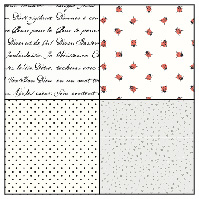 Line the pieced sunflowers up with the background blocks and applique them together as shown in the diagram.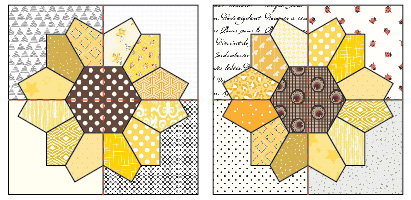 Press.
Our little sunflower garden is starting to grow and before we know it we will be in full bloom. Be sure to post photos of your progress to Facebook and/or Instagram to go in the draw to win a gift voucher to Patchwork with Busyfingers.
Sew-Along Prizes
Patchwork with Busyfingers will be giving away a total of $300 in Gift Vouchers to spend on anything online, all you need to do to be in the running is simply post a styled shot of the past weeks 2 blocks. Be sure to use the following hashtags so we can find your post #bringmesunshineSAL and tag @patchworkwithbusyfingers
NOTE: The Bring Me Sunshine giveaway hosted by Patchwork with Busyfingers is not sponsored, endorsed or administered by, or associated with Instagram or Facebook. Open Worldwide. Winners will be chosen and announced in the following weeks blog post. Prizes will be delivered via email and the recipient is responsible for shipping costs and any extra charges for additional products purchased. We reserve the right to alter the individual prize values and drawing dates. In the event we do not have enough entrants we will combine the total prize pool and announce a grand prize winner upon completion of the sew-along.
That's another week done and dusted. Make sure that if you want to share your progress on social media to tag me on @suedaleydesigns so I can see all of your hard work. Now on to week 5.