Hello & welcome to October!
October has been a very slow start for me. I had a minor incident on Sunday morning, completely innocent and no ones fault however lets just say Sue came off second best. Rushed to emergency in an ambulance and an x-ray later… I have broken my shoulder. Now this girl knows pain but can I tell you there is no pain I've felt quite like breaking your shoulder and to make matters worse they tell me to keep it in a sling, take some panadol and rest for 8 weeks, sorry did I hear that correctly? So here I am nursing some pretty impressive bruises waiting for a referral to a [Code Word:fracture] specialist.
Safe to say that I won't be stitching for the foreseeable future, but not to worry I am ahead with my stitching and have a great team who will help to get my blocks finished.
Enough about my shoulder and onto something a little more exciting. This week brings the first week of October and that much closer to Summer. Summer is my most favourite season, don't get me wrong I can appreciate them all but give me the beach any day.
Let us move on to Week 3's blocks.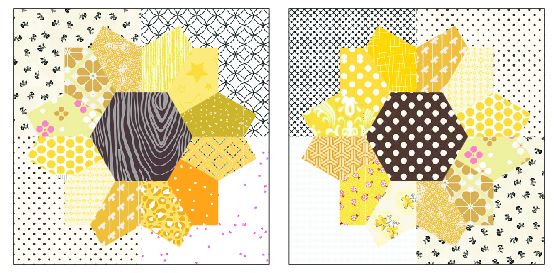 With week 3 brings another two blocks and another week of progress in our Bring Me Sunshine quilts. We will start off following the EPP instructions once more to make the two pieced sunflowers.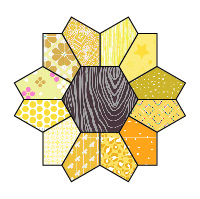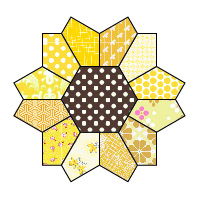 Make the background blocks by taking 4 background fabrics and sewing them together as shown in the diagram to make a four patch.
Next, remove the papers from both blocks, press and then line both of the pieced sunflowers to the centres of the background blocks using my appliqué glue. Be sure to use just a few dots, a little goes a long way.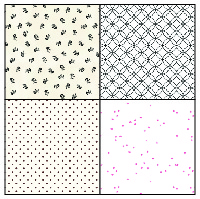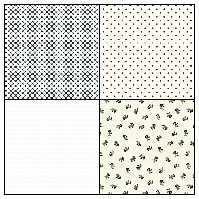 Finally, applique the pieced sunflowers to the backgrounds using the applique instructions in your pattern.
Press.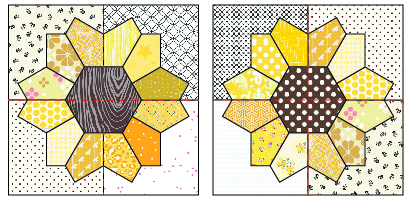 For anyone just joining us we have just cut some more quilt kits for the sew-along if you would like to join in, alternatively we have printed & PDF patterns available as well as fabric packs, papers & templates. You can find everything you need HERE!
Sew-Along Prizes
Beginning week 4, Patchwork with Busyfingers will be giving away a $20 Gift Voucher to spend on anything online, all you need to do to be in the running is simply post a styled shot of the past weeks 2 blocks and include the code word from that weeks blog post in your caption, the code word will be hidden someone in my blog post so you'll have to find it. Be sure to use the following hashtags so we can find your post #bringmesunshineSAL and tag @patchworkwithbusyfingers
NOTE: The Bring Me Sunshine giveaway hosted by Patchwork with Busyfingers is not sponsored, endorsed or administered by, or associated with Instagram or Facebook. Open Worldwide. Winners will be chosen and announced in the following weeks blog post. Prizes will be delivered via email and the recipient is responsible for shipping costs and any extra charges for additional products purchased.
And that is it for this week. as always I would love to see your progress on the Bring Me Sunshine quilt, and all the amazing fabric combinations that you choose. If you upload your progress to social media, don't forget to tag me @suedaleydesigns so I can see all your hard work.