Welcome back to week 2 of the Bring Me Sunshine sew-along. Join me here each week where I will be posting new blocks for the Bring Me Sunshine quilt.
Wow you guys sure know how to make a girl feel good, for those who have sent me messages, signed up for the SAL or are simply following along on my blog, thank you so much.
Due to shipping delays etc, many folks either have only just received their parcels or are still waiting so we will postpone this weeks winner and announce week 1 & 2 winners along with week 3 to allow extra time for sewing up your first couple of blocks.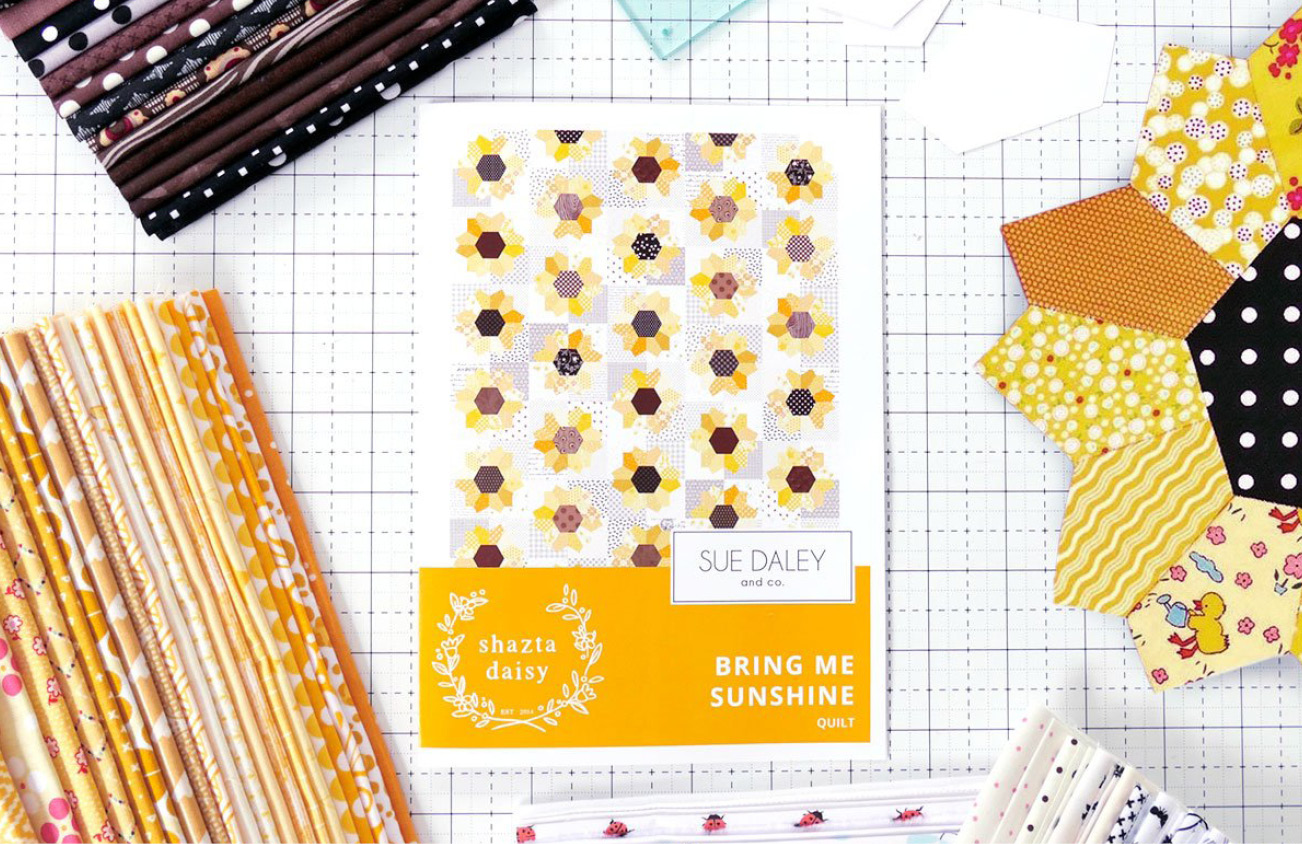 I've had quite a few questions from folks who are new to my blog and my sew-alongs and I just wanted to cover those here just in case you may have had the same question.
Q: Can I traditionally hand piece this quilt? A: Absolutely! About 10 years ago I changed my acrylic templates to dual purpose to allow folks who preferred traditional hand piecing aka American piecing to enjoy my patterns. All of my EPP shapes have lines & holes to make this easier for you.
Q: Can I cut my own papers? A: I personally don't cut my own papers as I know my shapes would never end up being the same size by the time I was done however if you've purchased or are thinking of purchasing the PDF download, we have included the actual size of the 3 shapes used and you can create your own if that is your preference. I do want to emphasis though that you need to ensure when cutting your papers (if by hand) that you decide where you're going to cut i.e. on the line, inside or outside as this will affect the size of your papers.
Q: Do you cut all of your fabrics before you start? A: It is very rare that I cut out my entire quilt before I begin (mainly because I design and sew as I go) however I do work ahead and if I'm cutting into fabric that I know I'll need more of for later blocks I will cut a few extras so I am ahead of the game. What I do though is I cut and glue all of the shapes for the 2 blocks that I'm currently working on.
Q: Can I join in anytime? A: Yes, my blog posts don't go anywhere so if you find that you fall behind or are unable to start straight away, you won't have a problem catching up. Code Word: Springtime. You can find my most recent SAL Paper Lanterns and all the others if you scroll back through my blog.
That covers most of the questions I was asked however if I have missed yours please send it through again as sometimes they get lost in my DM's.
I am loving all of your progress images that you are sharing with us using the hashtag #bringmesunshineSAL
All of your work is spectacular!
Now on to week two.
Week two consists of making another two blocks.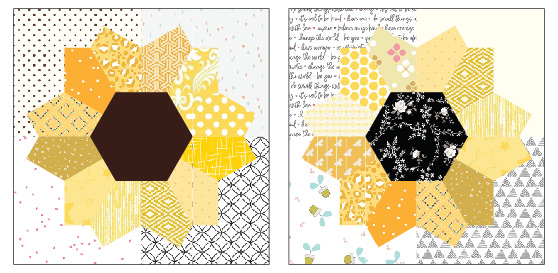 To begin, make 2 pieced sunflowers using the EPP method.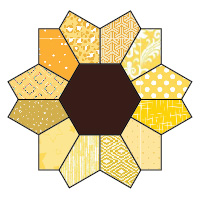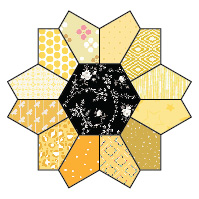 Take 4 background squares and sew them together to make a four patch block. Repeat this for the second block.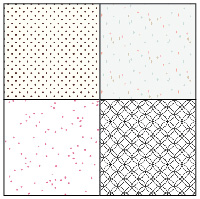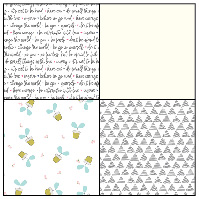 Align the pieced sunflowers to their respective backgrounds and using the Applique instructions, applique them together as shown in the diagram.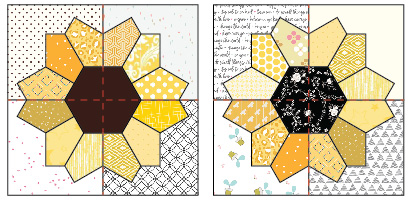 And there you have it. Another two blocks done and dusted.
Sew-Along Prizes
Each week Patchwork with Busyfingers will be giving away a $20 Gift Voucher to spend on anything online, all you need to do to be in the running is simply post a styled shot of the past weeks 2 blocks and include the code word from that weeks blog post in your caption, the code word will be hidden someone in that weeks blog post so you'll have to find it. Be sure to use the following hashtags so we can find your post #bringmesunshineSAL and tag @patchworkwithbusyfingers
NOTE: The Bring Me Sunshine giveaway hosted by Patchwork with Busyfingers is not sponsored, endorsed or administered by, or associated with Instagram or Facebook. Open Worldwide. Winners will be chosen and announced in the following weeks blog post. Prizes will be delivered via email and the recipient is responsible for shipping costs and any extra charges for additional products purchased.
I am eager to see all of your progress so far, no doubt some of you have jumped ahead. Make sure to tag me on facebook or instagram @suedaleydesigns
See you next week.