A Moment in Time – Paper Lanterns Sew Along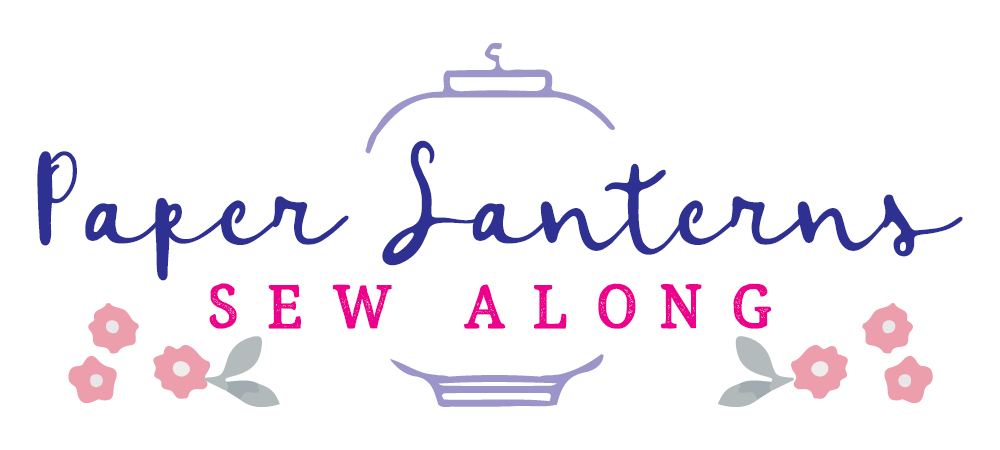 Hey Everyone! With less then a week to go until the beginning of my Paper Lanterns Sew-Along I wanted to drop in say hello and give you some information you might need. I know I don't need to remind you how our world has drastically changed within the past few months. There is a lot of uncertainty and what I can tell you is that I'm trying to see the positive in everything around me. In order to survive this we must stand strong and not let the doom & gloom that surrounds us get us down. I have my days, oh there are plenty however, I am constantly reminded that I have a roof over my head, a family that love me and a business that is able to continue to employ my staff which I have you all to thank for. Has it been easy? No. Have we had to make some changes? Yes, lots of them. As with any business you have to pivot and pivot quickly just like we have had to learn when doing our weekly grocery shop & teaching our children from home.
With this one moment in time it is important to take care of our mental health. To talk to your friends and family (social media is an excellent tool for this), to take time away from the bad news and relax. Hobbies are an excellent way to take a breath and escape the madness of what is our new normal.
It is amazing how you can lose your thoughts while hand sewing, I believe it is good for the soul. I have picked up a needle last week for the first time in over 6 months and started sewing.
Many of you know that I'm hyperactive and don't do things by halves, I've jumped right in and have designed this quilt to share with you all. I've stayed true to my love of scrappy and created this quilt called Paper Lanterns. I'm going to share this pattern with you via my blog each week as a free Sew Along.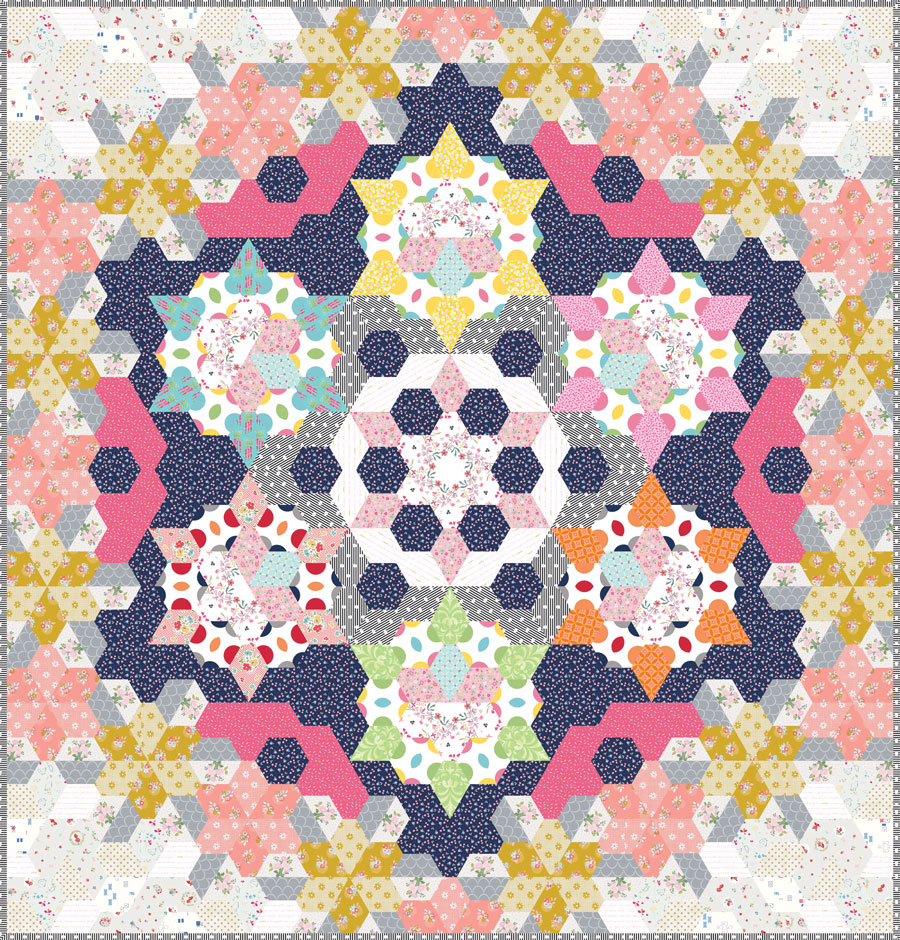 Over the next 25 weeks please join me to create Paper Lanterns. I will be sharing each week on my blog the steps to putting this quilt together. I have broken it down evenly and will offer tips & tricks along the way to make your process easier. I'm going to take this time each week to remind myself to take a moment to sit down and enjoy something for myself and I'd love you to as well.
My team have put together some fabric kits to support the Paper Lantern Sew-Along. The Paper Lantern Sew-Along fabric kit includes all the fabric for the top & binding with an option to add on wide-back for a discount along with the papers & templates you need to join in (some papers will need to be used twice, I've done this to keep the cost of the kit/pack down). The pattern will be available each week right here. For those who want to join in but wish to use your own fabrics that's okay too. Pull your fabric stash out and let create together.
For those who would like to use their own fabrics but need paper & templates. We have put together a pack to make it easy for you to order. You can find it HERE!
We also understand that times are tough for many people and have made available a free PDF download which includes the 3 paper shapes used in this quilt. I do need to stress however that when cutting your own papers it is important that you cut your papers as accurately as possible as the precision is in the card and if you cut outside the line on some and inside the line on others your shapes won't marry up nicely. You can find the free PDF download to cut your own shapes HERE
Below is a list of fabric requirements which can be downloaded as a PDF HERE
If you are using fabric from your own stash, please understand that the below requirements are based on the original fabrics used and the quantity required may vary for those fussy cutting fabric with a different repeat. Be sure to check you have enough repeats before you cut into your fabric, there is nothing worse then running out when you've completed 95% of your work. Remember the great old saying 'Measure twice, cut once'!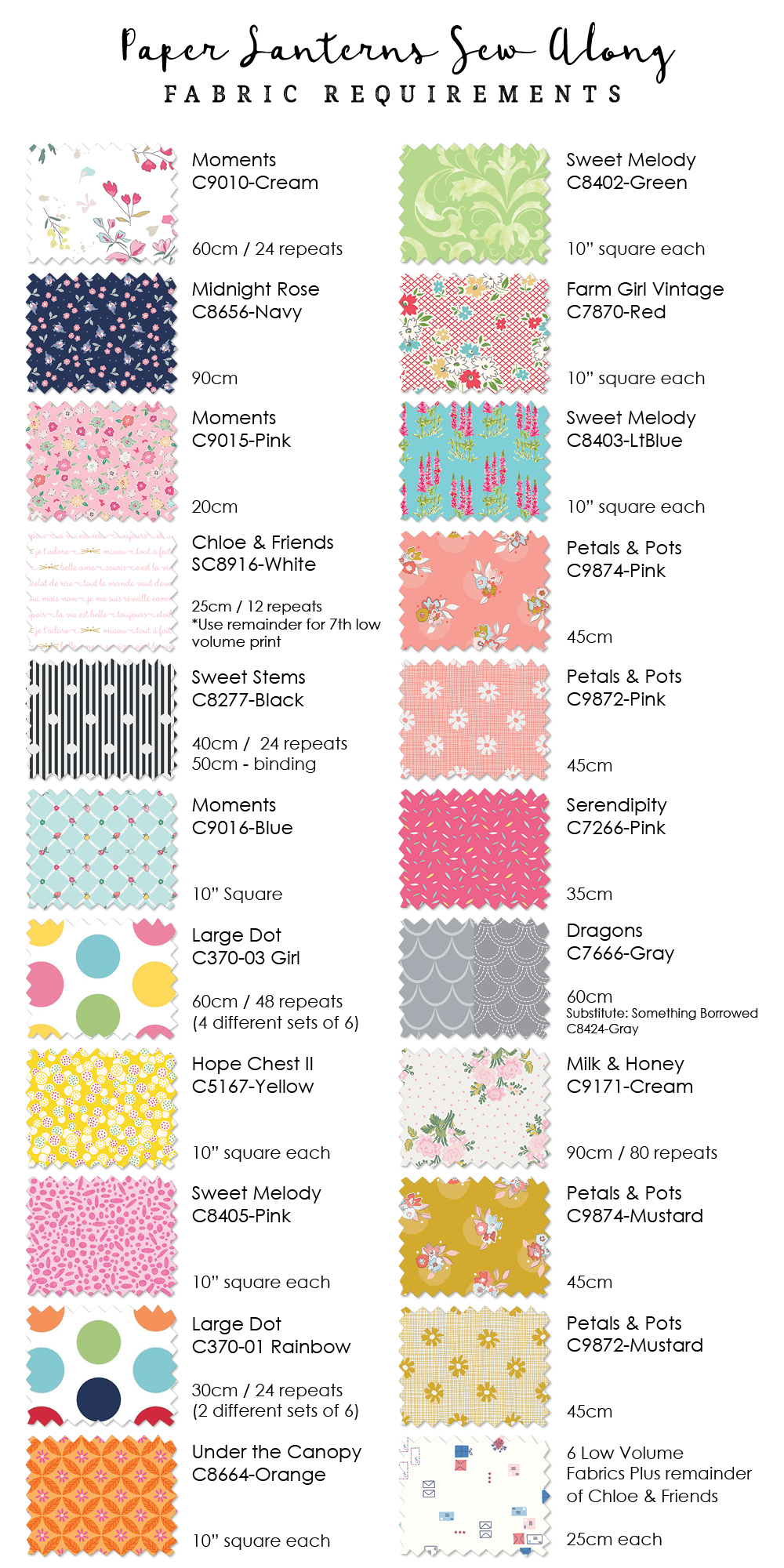 As we embark on this journey together I would love for you to share with me your progress so in turn I can share with others.
This is a moment in time that we will never forget so I hope that sewing this quilt will help you through the difficult moments that we are all facing.
Stay safe, be kind to yourself and others and stay positive. We will get through this together